AcademicHelp.net Review 2023
0 Comments
11/14/2020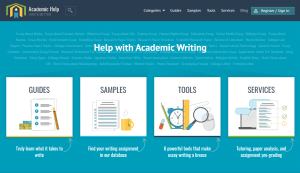 Visit Site
Again I came back to you but already with a new review for a new service – academichelp.net. I do not like to do reviews of sites that assume that there will be poor quality. But this is my task, is not it? I did not want to believe the reviews of my friends or others which I found on the Internet, and decided to make my little investigation. Let's find out and summarize now.
Service Overview
If to look at what you can order here, you can find that mostly, this company suggests you get a guide. It means that the author will teach you or show you how to do this or another assignment. You can still order here an essay or another paper, but mostly they try to teach students or other people. I find it at least strange, do not you?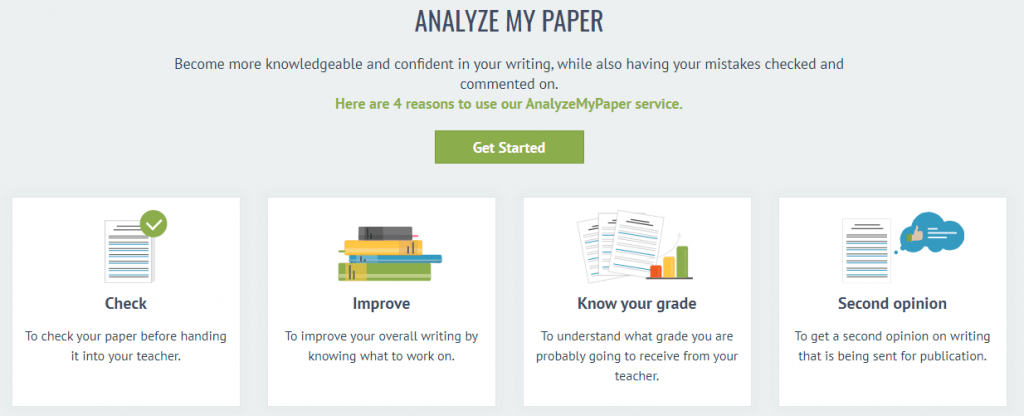 Academic Assignment – writing an essay, writing a research paper, writing a review, laboratory report, process paper, coursework, term paper, case study, annotated bibliography, presentation, and speech.
Creative Writing – song, interview, novel, screenplay, short story, book, memoir, article, haiku, etc.
Business Writing and General Writing.
Writing Guides – personal statement, application letter, admission essay, memoir, etc.
Writing a Letter – evaluation, complimentary, informal, recommendation, registration, hardship, complaint, grant, reference, refund, etc.
Writers
On academichelp.net you will hardly find information about authors. It is strange, but they do not write a lot about them, and you can not even imagine with whom you will work until making an order. Of course, I needed to find out, and I was disappointed. I ordered a simple essay but even here they tried to teach me and waste time, and it was very boring and again very strange. I find it a way of cheating.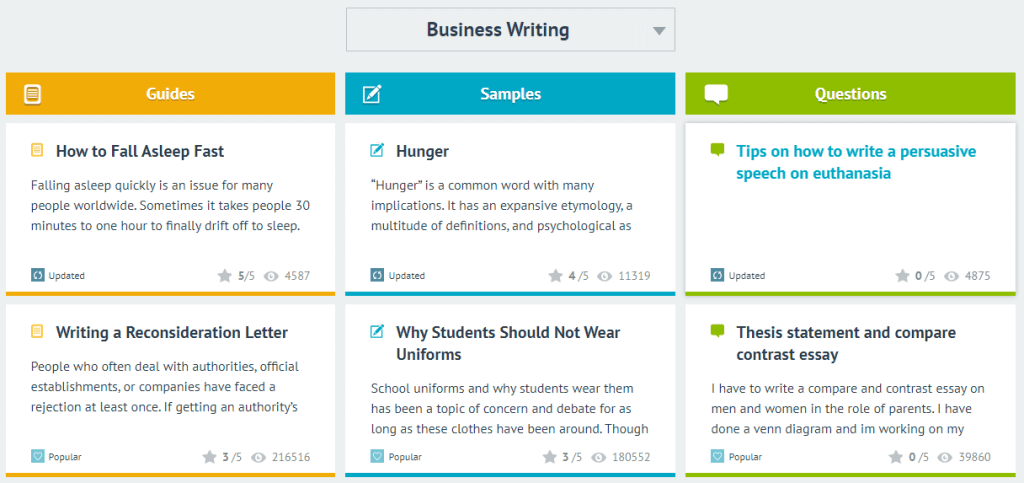 Quality of Delivered Paper
As you already know, unlike other writing platforms, AcademicHelp does not write your paper from scratch. Instead, you write your paper and submit it to them for detailed analysis and recommendation.
Even with this simple task, they do not perform well.
Firstly, you will find it a bother that you cannot upload your file as a document to the site; instead, you have to copy and paste. I decided to ignore this fact, but even the quality of my paper, upon delivery, left a lot of things to complain about. The writers give short, concise corrections, and when you reach back to them, they add only a few more details, which makes me wonder why they didn't just add it at first. Right?
Again, they act like they are too busy to work, and when you reach out to their customer support, you are met with another brick wall. There's nothing good to say about this platform and the service they offer.
You will only be wasting your money if you go for it. 
Benefits
On the AcademicHelp website, you will find:
AcademicHelp plagiarism checker
citation generator
assignment planner
essay topics ideas
glossary
ask an expert (feature when you can request an expert about your work).

And yes, on the one hand, the picture is very picturesque and even inspiring. But the reality is always harsh, and even here you are meeting with fake features. You can ask an expert but only for a good sum, and access to other functions also allows after certain conditions are fulfilled (at least be a regular customer). This is the case when the benefits become just words and another attraction for clients.
Ordering Process
Before you begin the ordering process on any writing platform, the first step is to sign up. AcademicHelp is no different. You sign up with your email and expect 100% confidentiality. If this isn't assuring enough, you can always create a separate email address just for this purpose.
After signing up, the bulk of the work is done, and the rest of the process is really easy and short.
●     Enter your email. This is an obvious step, as your email is the only address by which they can reach you.
●     Select the type of paper your project is about. There are many options to choose from, even though I highly doubt the platform's ability to carry these projects out satisfactorily.
●     On AcademicHelp, a page work is made up of 275 words. Using this number, you can calculate how many pages your project is.
●     Select your deadline. It is not news that the earlier the deadline, the more you will have to pay.
●     After selecting a deadline, you can now add the text or article you wish to analyze.
●     Wait for the finished work to be delivered to your mail. 
Prices
And you will not see the price before you will not make registration and complete the application form to make an order. Do you find it honest? I do not think so, but I needed to make this all and even make an order to find out how good their work was. I can only say that cooperate with this company you will meet with a scam. The authors try to make you pay more and more for low-quality papers.
Customer Support
The customer support for AcademicHelp is just as disappointing as every other service they claim to render, and I am not the only user to have complained of this.
They boast of 24/7, round-the-clock customer service on their website, but that is just one of the many things they lie about on their page.
When you chat them up, they send you an estimated time of wait before which an agent will be with you. It turns out the message is just an automatic response and doesn't hold. You might have to wait hours before a manager finally responds to you, and even then, they do not have any helpful tips to give you.
Most managers know nothing about the platform's terms of services, and even during live chats, they take way too much time to respond to messages. They act completely lackadaisical about giving the user a completely seamless experience, and I found that disturbing. 
Guarantees
Even though their guarantees are very confusing and contradicting, they do have them on their websites. And I will be explaining these policies to you.
Zero Plagiarism Guarantee
This guarantee tells you that if your delivered paper is not original, you can return the article and request either a revision or a refund.
Refund Guarantee
If the writer doesn't meet the expected requirements or deadline, you can ask for a full or a partial refund, and it will be returned to you.
Free Revision Guarantee
As long as your instructions have been previously stated, you can request a revision for free if the writer fails to meet up with these.
Privacy Guarantee
This goes without saying. When using these kinds of platforms, anonymity is just as important as quality articles. If your personal information is compromised, it will put you in as much trouble as a bad article. This platform is assuring users of complete and total confidentiality when it comes to privacy.
Looking at the poor quality of their website, however, I highly doubt the authenticity of these guarantees. 
Interface
Usually, I say that most of the interface design is boring and very common, but here is a little different situation – it is just very uncomfortable and complicated. It looks like they tried to make it very informative but made it complex and inconvenient for use. Conclusion – designers, and programmers would work on it, to make increase usability for customers.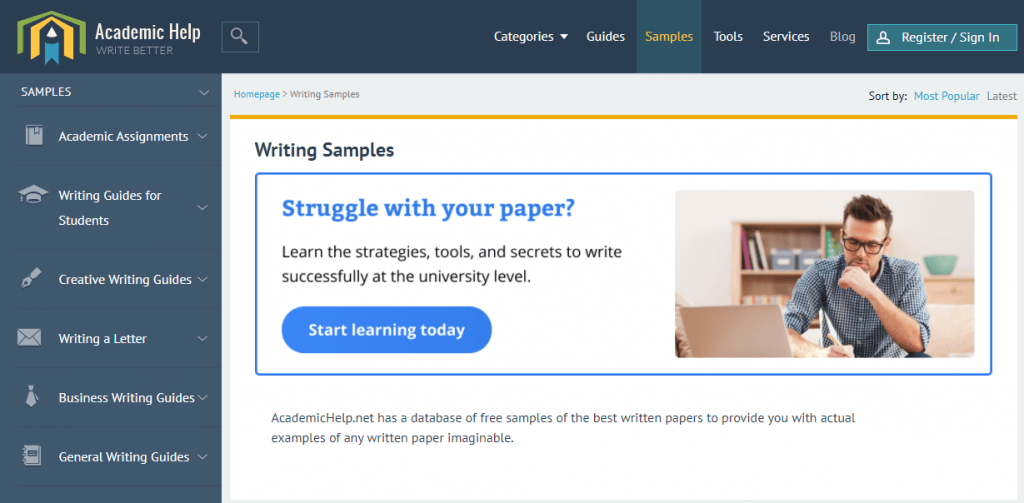 Is Academic Help Legit And Reliable?
The short answer is no.
The long answer is also no. AcademicHelp has a lot of obvious discrepancies on its website. Firstly, the pictures of the experts put up on their page are fake. As a professional organization, that's a huge red flag.
Another setback is how general and vague the analysis of your article is. I don't know why this is so because the whole point of the platform is to give a detailed analysis of your text. However, when I got my article back, the analysis was general and lacking in depth.
If you want to report this situation to customer care, you will be met with another setback because that area is also a big failure.
Generally, I think the site is not well thought of and executed. The organizers care way more about the money than providing users with the simple promises they claim to on their website.
There are way too many lies, and so much information does not add up. Their policies are contradicting and confusing.
So, no. I do not recommend this platform to anyone, as you will only be disappointed, like me. 
Pros and Cons
There are so many cons about this platform; I feel like I might not be able to squeeze out any pros. However, to boost the overall mood a little, here are a few pros to note:
Conclusion
Say last words about my AcademicHelp review – it made me sad. Because I like to do good reviews and try to support every company because I believe that they can improve their work and develop what they have now. And I do hope it happened with this service too, but I am still not sure it is a legal or illegal website. Rated: 5.5